Completely Insane Rarely Incorrect T-Shirt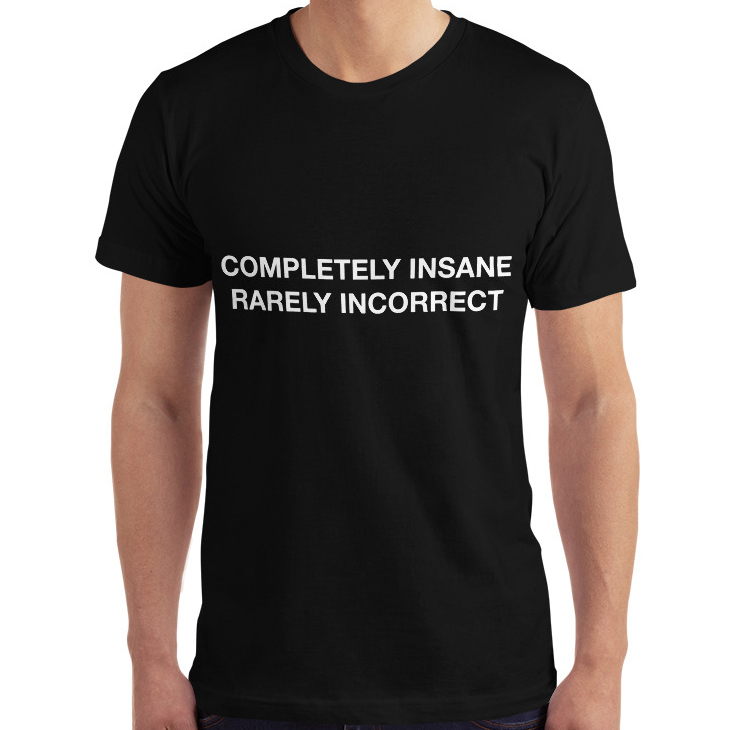 Steve Jobs once said, "The people who are crazy enough to think they can change the world are the ones who do." I say, embrace your insanity, and when they can't prove you incorrect, they can go fuck themselves.
Completely Insane Rarely Incorrect T-Shirt $21.86
Printed on American Apparel 2001 Unisex Jersey T-Shirt
---
News Feed
Sat. - Aug. 08, 2020 - 02:31 PM (Pacific)
If you're sure masks work, and you have one on, how would it make any difference to you if I'm not wearing one?
Tue. - Jul. 28, 2020 - 12:56 PM (Pacific)
Facebook, Google/YouTube, and Twitter Censored this Video: Doctors' Capitol Hill Coronavirus Press Conference
Mon. - Jul. 27, 2020 - 02:47 PM (Pacific)
New Video: Welcome to the Next Level
Got information? Contact us.
---
In The Media
---
Testimonials

Chazz L.
Prescott, AZ
USA
"…simply put, Drawk's teachings make Dale Carnegie's How to Win Friends and Influence People look like a children's book."

Jesse M.
Redding, CA
USA
"Drawk not only has the ability to bring the fun, flirty girl out of women amazingly quickly; he can teach you how to do it with great attention to detail."

Travis D.
Irvine, CA
USA
"The experience opened my eyes to a completely different perspective on life. I can honestly say I am becoming the man I wanted to be."

Luke S.
Frisco, CO
USA
"You spring to life, your worldview focuses intensely forward, and everything you do makes sense in relation to your goals."

Dave P.
San Jose, CA
USA
"You will feel completely comfortable and be well-received among any group of people, both in business and social situations."

Garrett M.
Irvine, CA
USA
"I definitely came back from the weekend feeling like a completely different person."